Note: This site is no longer being maintained, unfortunately. Most of the pages haven't been modified for years. See the homepage for the only part of this site that is being kept up to date.
---
jump to bottom of page
by date: previous | contents | next
by type: previous type (Commercial: promo) | contents
jump to: Airing Info | Description | Transcript | Credits | See Also
Type

Commercial: for product

Date

Fri, 20 Oct 1995

Time

unknown

Channel

Nickelodeon and others

Running time

30 sec (Melissa's part: 2 or 3 sec)

Repeated

infrequently on various channels, but probably not anymore

For specific dates that this has been repeated in the past, if known, see U.S. airings of Melissa and/or Non-U.S. airings of Melissa.
This commercial is very strange! It features Gilbert Gottfried, Underdog (!), Melissa Joan Hart, and Raven-Symone (The Cosby Show, Hangin' with Mr. Cooper).
Note: I've also seen Melissa's part tacked on the end of another version (or two?) of this commercial featuring Chris Elliot, Queen Latifah, and Calvert DeForrest (Larry ``Bud'' Melman).
You can get pics from this at:

http://ftp.tcp.com/ftp/pub/melissa/images/commerc/frosted/
[opens with words ``Opening Everywhere'' on screen]
Announcer: ``Opening everywhere...!''

[cut to shot (from inside a cereal box) of Gilbert looking in and picking out a single Cheerio]
Gilbert: ``Frosted Cheerios!? I've never seen anything like this!''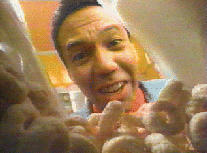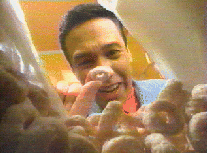 Announcer: ``Such a sweet and crunchy part of this complete breakfast, this box never closes.''
[Gilbert, sitting at a breakfast table, eats some cereal]
Gilbert: ``Stupendous!!''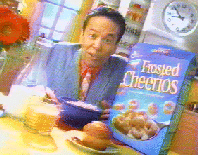 [Underdog inexplicably shows up, looking into the box and taking a Cheerio]
Underdog: ``There's no need to fear! Frosted Cheerios is here!''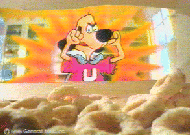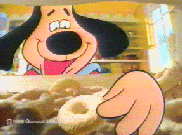 [shot of a regular Cheerio becoming a frosted one]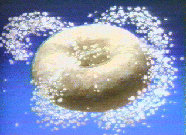 Announcer: ``Now those awesome little O's have been frosted the whole way around for a delicious, crunchy, sweet taste everyone's into [??].''
[I couldn't make out that last part very well; Melissa shows up, looking into box; she has a bowl of cereal and a spoon in her hands]
Melissa: ``Well, duh! Of course it's delicious.''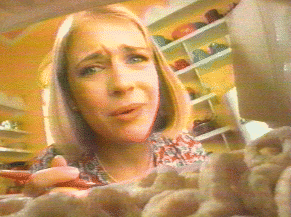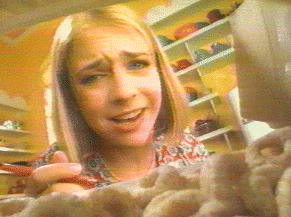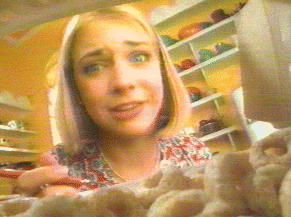 [a short chimpanzee scream is heard as she rolls her eyes and eats some cereal]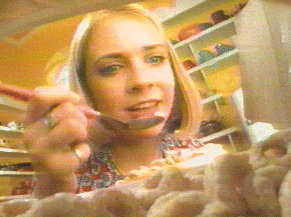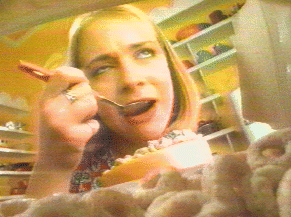 Announcer: ``Frosted Cheerios: tastes so good, this box never closes.''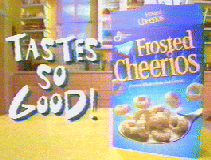 [Raven, also with a bowl in her hands, shot from inside box again]
Raven: ``This is way too good for adults!''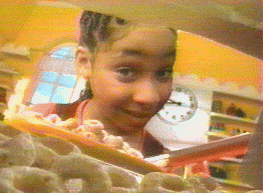 Opening credits

--

Closing credits

--
---
Current section: Info Archives / Melissa / On TV / MJHTV Pages
Next page: MJHTV: Touched by an Angel: ``Angels on the Air''
Previous page: MJHTV: Nick in the Afternoon: ``Celebrity Stump Stick''
[Info Archives] [Melissa] [Sabrina] [Clarissa] [Mailing List] [What's New?] [E-mail Me]
---
Donald Lancon Jr [e-mail me] Page content last modified: Wed, Aug 5, 1998