Note: This site is no longer being maintained, unfortunately. Most of the pages haven't been modified for years. See the homepage for the only part of this site that is being kept up to date.
---
jump to bottom of page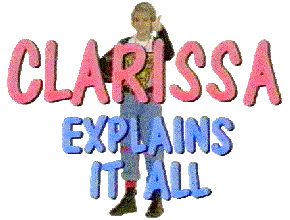 jump to...
Welcome and introductory comments
Clarissa contents
Welcome to the Clarissa Explains It All section of my Melissa Joan Hart Information Archives.
This section is all about the television show Clarissa Explains It All (CEIA), in which Melissa Joan Hart (MJH) played the title character.
Briefly -- very briefly -- the show is about the everyday life of a teenage girl (Clarissa) and her family. She talks to the camera a lot, explaining everything that's going on -- hence the title.
Ostensibly a ``kids' show'' (although I know many who would disagree with this, including myself), CEIA aired on the U.S. cable channel Nickelodeon from Mar 91 to Oct 94 (65 episodes). Nick has been repeating the shows ever since.
See below for information about CEIA airing times around the world.
Other Clarissa-related sites may be found in Melissa Joan Hart sites around the net.
Please take a moment to read Some things to note.
---
jump to...
Welcome and introductory comments
Clarissa contents
---
Current section: Info Archives / Clarissa
Next page: The latest Clarissa news
Or skip ahead to: The Clarissa Mailing List
Previous page: Miscellaneous old Sabrina news
[Info Archives] [Melissa] [Sabrina] [Clarissa] [Mailing List] [What's New?] [E-mail Me]
---
Donald Lancon Jr [e-mail me] Page content last modified: Sat, Jul 25, 1998